Harvest season has been in full swing across much of the Corn Belt for several weeks. And with this surge of activity, typically comes an increase in the number of fires we see in harvesting equipment and grain handling facilities. This year has been no exception. In the past few weeks, many fires relating to harvest operations have been reported in these farming communities. In Iowa last week, firefighters responded to a fire in a tower grain dryer, and high winds created challenges, as shown in the video clip below.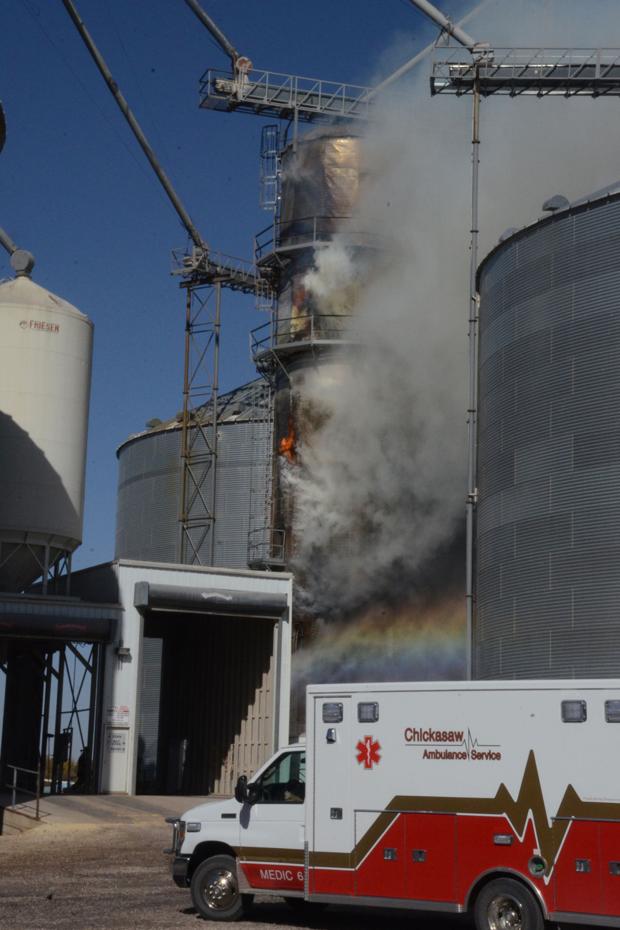 Photo by New Hampton Tribune
A tower dryer is a structure used for drying "wet" grain as it comes from the field down to a moisture content that is suitable for long-term storage of the grain. For example, corn may be harvested at 20-25% moisture, but for long-term storage this number must be reduced to 15% or less. To do this, farmers and grain handlers may use gas-fired drying equipment, which may be a mobile unit, a part of a structure, or an independent free-standing structure. Some dryers take the grain from a wet-storage holding bin and pass the grain through the drying equipment before it exits into a long-term storage structure. Other smaller, simpler systems perform the drying within the long-term storage structure.
The key approach to handling a grain system fire is to understand how the system is designed. This is important so you know how to shut down blower fans and stop the flow of product, thus isolating the burning material from undamaged grain and structures. It will also help you determine the amount of grain involved and how to access the fire. In the case of a pass-through dryer system, it may be possible to purge the grain from the unit, but if a system is still operating during a fire, the burning grain may be conveyed into the storage structure, then creating additional fire involvement and posing some serious challenges for extinguishing a fire. Always keep in mind the potential for a dust explosion wherever dusty product is burning within a compartment, as well as the potential for a backdraft situation when fires occur within oxygen-limiting structures. Most mobile and stand-alone drying equipment will have perforated components, which will provide for the infiltration of water when applied to the exterior. For all structures, be aware of the potential for collapse if a structure is heated to the point where the components weaken. Do not place personnel in harm's way, and keep this in mind when positioning apparatus.
NEW HAMPTON | Multiple fire departments responded to a dryer fire at Five Star Cooperative on Thursday afternoon.
Five Star employees saw flames shooting out of the dryer around 1:45 p.m. and immediately notified the New Hampton Fire Department.
By the time firefighters arrived, flames could be seen shooting out of the dryer and smoke from the fire made for poor visibility along North Linn Avenue.
New Hampton firefighters quickly called for mutual aid, and fire departments from Fredericksburg, Lawler, North Washington and Ionia could be seen at the scene.
Northwest winds of 25 mph that included gusts of up to near 40 mph presented a challenge to firefighters as they battled the blaze.
via http://wcfcourier.com/news/local/winds-whip-grain-dryer-fire-in-new-hampton/article_051b31ba-0827-5377-8b50-6401eb4257af.html