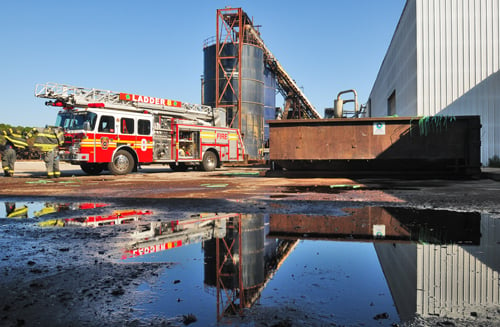 BEAUFORT — State and local officials are continuing their investigation into the cause of a silo fire early Sunday at Atlantic Veneer, a manufacturing plant on Lennoxville Road east of town.
The County Fire Marshal's office, along with the State Fire Marshal's office and the State Bureau of Investigation, are conducting a formal investigation into the nature and cause of the fire, according to a release from Beaufort Fire Chief Larry Fulp.
At 4:56 a.m. Sunday, Beaufort Fire Department was dispatched to a reported wood chip silo fire at Atlantic Veneer.
When units arrived, they found two silos and the conveyor system at the plant on fire. Crews extinguished the fire in the conveyor system, several small fires in neighboring buildings and spot ground fires. Additional crews set up ground monitors to cool the silos and provide protection for adjacent structures.
An explosion occurred in one of the silos destroying the roof and sending debris through the air.
Chief Fulp stated portions of the roof landed on the boiler room building next to the silo, with the remainder falling inside the silo. One firefighter was injured in the explosion. He was checked by paramedics on scene and was able to return to active operations.
Crews worked throughout the day to remove and extinguish the wood chips from both silos. The Beaufort Fire Department returned later to extinguish a flare-up in one of the silos.
Personnel and equipment from Atlantic Beach, Harkers Island, Morehead City and Otway assisted with firefighting operations while Wildwood Fire Department provided coverage for Beaufort's station. Carteret County Emergency Management and Beaufort EMS also responded.
Atlantic Veneer employees also assisted in the removal of the wood chips.